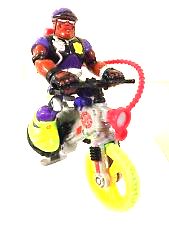 Kenny Ride is a bicycle patrol officer.
Biography
Edit
He is an African-American talented biker who won the Tour de France for his performance in France. He patrols streets on his bike.
Appearances
Edit
Kenny Ride is voiced by Rino Romano.
Ad blocker interference detected!
Wikia is a free-to-use site that makes money from advertising. We have a modified experience for viewers using ad blockers

Wikia is not accessible if you've made further modifications. Remove the custom ad blocker rule(s) and the page will load as expected.