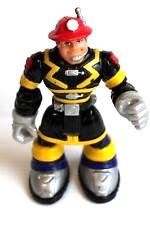 Sam Sparks is a firefighter.
Biography
Edit
He is a member of the Fire Rescue Squad. In High Anxiety, he and Hal help put the fire out at a skyscraper, and in Sibling Blowout, he and Hal E. Copter even helped put out the Class 5 oil well fire in Oklahoma.
Sam Sparks is one of 4 Rescue Heroes are firefighters. The others include Hal E. Copter, Wendy Waters and Billy Blazes.
Ad blocker interference detected!
Wikia is a free-to-use site that makes money from advertising. We have a modified experience for viewers using ad blockers

Wikia is not accessible if you've made further modifications. Remove the custom ad blocker rule(s) and the page will load as expected.