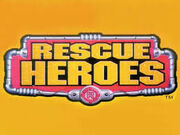 Hello. My name is Bertram Hatt aka Thomas and friends 47. I found the Rescue Heroes wikia about three months ago, the wikia needs help. Help from me, and most importantly YOU! We as a community, can come together and make this wikia the best it can be...
Why do I like Rescue Heroes
Well, like many of you, I played with them as a child and never really grew out of them. I played with the toys and to this day I still have the Jake Justice Police car me and my little brother got for Christmas From my Grand ma and my late grand father.
Why do I want a new Admin for RHW?
I want a new Admin, because the RHW is starting to get out dated. It needs a face lift and WE can do it. With a new Admin, we can make important changes and serve the Rescue Heroes community the best we can... I believe, That We, as a community, We as Rescue Heroes fans, should take this new step into the future, to take this step and make this wikia the best Wikia page EVER!
What would I do as a Admin?
Well, I would make changes to the background, by first assembling a team of graphic designers to make us a logo. Then I would hold an election for more admins together we would help the wiki move along. Then I would assemble a team of people for a 'Social Media Division' That would handle a Facebook page, A YouTube Account and a Twitter account. Then I would Have every article checked. Every error will be erased on pages. More info Will be added to each page. And we will make the wiki accurate to the Rescue Heroes line of toys and shows. And I have many many more ideas!
So in closing, If we get some new admins and take over this wiki, we will move forward as a community and won't get left behind in this new modern age. Please submit you're thoughts on the issue and Admin nominees below. Sincerely,
--Thomas and friends 47 (talk) 07:14, April 20, 2014 (UTC)Bertram

Ad blocker interference detected!
Wikia is a free-to-use site that makes money from advertising. We have a modified experience for viewers using ad blockers

Wikia is not accessible if you've made further modifications. Remove the custom ad blocker rule(s) and the page will load as expected.