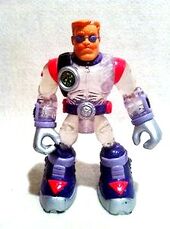 Warren Waters is a director and chief dispatcher.
Biography
Edit
He works for the Rescue Heroes, as does his daughter, Wendy Waters. He works at the Hexagon with Roger Houston.
In one episode, Wendy had completed a space training program that qualified her to work aboard the Hexagon HQ alongside her father. However, Wendy still wanted to be part of the Rescue Heroes back on Earth. By the end of the same episode, Wendy finally revealed her feelings to her father, explaining that while working in outer space had always been his dream, it was not Wendy's dream despite having enjoyed hearing about it during her childhood. Warren understood his daughter's true dream and told her he was proud of her no matter what she does and with some sadness, watched her returned to the Rescue Heroes.
Ad blocker interference detected!
Wikia is a free-to-use site that makes money from advertising. We have a modified experience for viewers using ad blockers

Wikia is not accessible if you've made further modifications. Remove the custom ad blocker rule(s) and the page will load as expected.