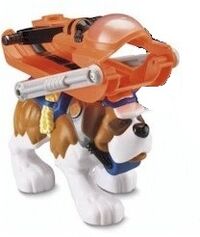 Windchill is a St. Bernard dog who can help victims from mountain disasters. His owner is Al Pine. Windchill's main duty is to alert Al Pine of emergencies as well as transport victims to safety by use of a specialized rescue sled.
Ad blocker interference detected!
Wikia is a free-to-use site that makes money from advertising. We have a modified experience for viewers using ad blockers

Wikia is not accessible if you've made further modifications. Remove the custom ad blocker rule(s) and the page will load as expected.